Parts warranty by service or sale type.
CNC West (CNC Electronics West Inc) offers parts warranty dependent on the type of GE Fanuc part, service and its application. Basically for repair and exchange warranty is 12 months. For new CNC replacement GE Fanuc parts built by us 2 years. For surplus used and new GE Fanuc parts normally 12 months. Though dependent on the third party supplier of the new GE Fanuc parts. Also no warranties are offered on some Fanuc parts and in special circumstances. Please NOTE: All warranties are subject to the GE Fanuc parts that we have supplied being faulty in some manner – not to individuals or companies blowing them up, due to lack of experience, negligence or ignorance in any way.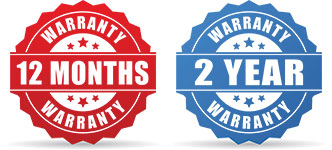 * No Warranty Conditions: Certain GE Fanuc parts that are sold by CNC do not have warranty due to the nature of the GE Fanuc part:- Power Transistor Modules, Fuses for pcbs, power supplies, and drive units (this is due to the GE Fanuc part being blown up via incorrect or insufficient diagnosis of the fault and the solution blowing the GE Fanuc parts up). Also any GE Fanuc part of any type sold as a outright new or used product, or as a repair or exchange service being interfered with in any way that electronically or physically is altering the GE Fanuc part from the state that it left CNC Electronics West Inc premises.
Warranty is Return to base (RTB) for repair in which the costs of GE Fanuc parts and labor for the job is incurred by us (assuming it is indeed a genuine warranty). Delivery of warranty GE Fanuc parts back to the customer is via UPS ground, if however faster services are required then Customer must pay for them. In some cases, CNC Electronics West Inc may deem it possible to send out a replacement GE Fanuc part, but this is and will always be at the discretion of officers of the company to decide.